Beautiful surroundings of the Amata river
In the 18th century, landscape gardening traditions were brought from England to the Russian Empire's provinces in the Baltics; the English style became especially popular during the reign of Catherine II. The main concept of romantic landscape parks is to avoid crippling the beauty of nature. Hiking trails along rivers and through forests or ravines were to wind naturally as if they were there for hundreds of years. Fallen trees were to stay and gradually become covered in moss. Even if landscaping activities were performed, such activities were designed to retain the wild beauty of nature. The creation of beautiful observation points and romantic spots was allowed, but the landscape park was meant to highlight the uniqueness and variety of nature.


Creation of the landscape park at Kārļamuiža (Manor Karlsruhe)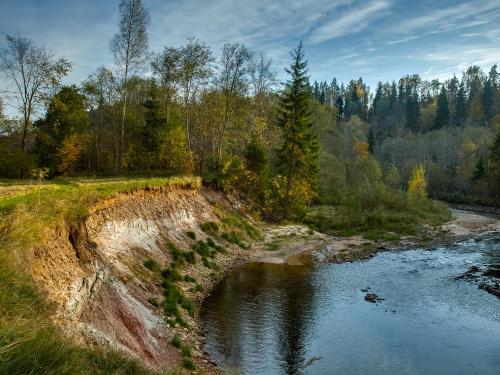 The beautiful surroundings of the vivid Amata river bank became a popular destination at the end of the 18th century. Nature provided the unique conditions on the banks of the river Amata, near Kārļamuiža, to create a beautiful landscape park. The area is blessed with impressive sandstone and dolomite cliffs, breathtaking scenic vistas, bubbling streams, a choir of various birds, and primaeval ravines.

Because of the area's likeness to the ideas of parks and gardens of the Age of Enlightenment, at the end of the 18th century, an open planning landscape park was created in
Kārļamuiža
in accordance with the latest fashion requirements of the time. The owners of the manor carefully improved on the surroundings: hiking trails were created along the rocky cliffs of the nearby Amata, and an artificial waterfall and several romantic rest spots were built. The landscape park is an expression of the best taste and understanding of beauty from the era.
The landscape park included the largest rock formations of the Devonian period and cliffs of the ancient valley; most of the plants and trails remain intact today. It is possible to walk the old park trails and see the impressive cliffs and rock formations along the Amata.
Ainavu krauja
The Ainavu precipice (Ainavukrauja) is the most significant natural object of the park. It is located on the bank of the river Amata, approximately 1 km from Kārļamuiža, opposite the Karli fish hatchery (formerly the Kārļamuiža watermill), and between the houses "Ainavas" and "Klintslejas". The Ainavu precipice is 45m high, and the 500m long river bank precipice reveals three rock formations: Bizene rock, Ainavu rock, and Ergli cliffs. These are some of the tallest rock formations in the Baltic States, and the Ainavu precipice is a state-protected geological monument. The precipice provides a stunning view of the ancient valley of the river Amata.
The Amata hiking trail
extends above the Ainavu precipice along the right bank of the river Amata.